A Gallery Of Patriot Flags
The Liberty Tree Flag


  A portrait of Commodore Esek Hopkins by the English painter, Thomas Hart is the only source of this flag, and therefore it might not actually have existed apart from the artistic imagination of Thomas Hart.
Commodore Hopkins, Commander in Chief of the American Fleet.
Published as the Act directs 22 Augt 1776 by Thos. Hart
Mezzotint engraved by C. Corbutt
This image maintained by the Library Of Congress

  The detail of the flag shown on a ship to the right of Hopkins reveals that the flag consisted of a solid white, or other light color field, with a tree in its center and the mottoes "Liberty Tree" and "An Appeal To God" above and below the image of the tree. The tree does not look like the traditional pine tree of the New England colonies; instead, it appears to be some sort of deciduous tree in full bloom.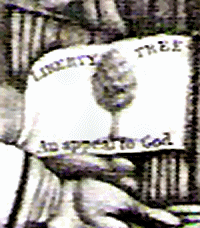 No other source has been found depicting or describing this flag.