A Gallery Of Patriot Flags
Stars And Stripes
     As painted by Abel Buell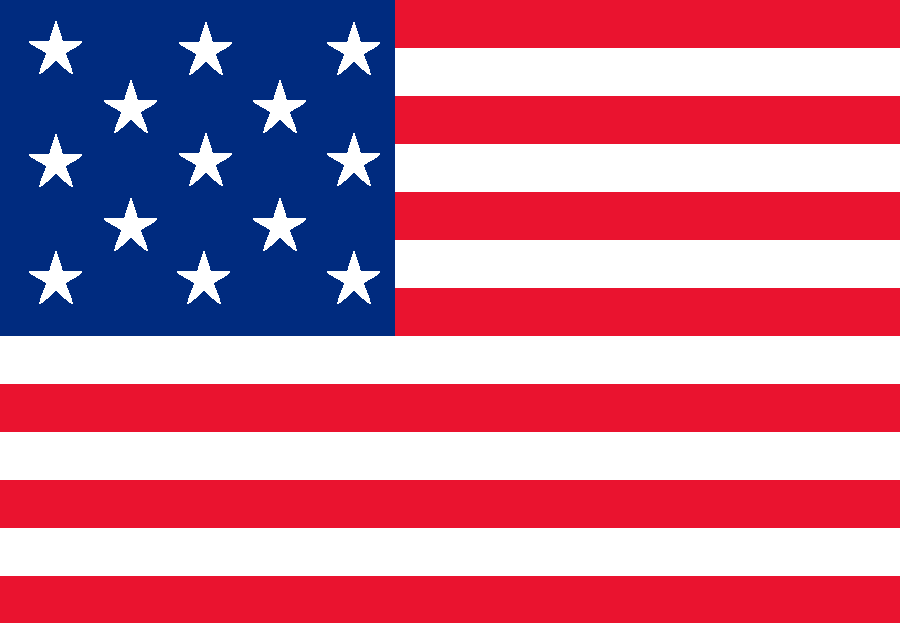 This version of the Stars And Stripes flag was painted by Abel Buell of New Haven, Connecticut on a map that he titled: "A New And Correct Map Of The United States Of North America."

  This flag, with its five-point stars, is believed to have been flown on the continental sloop, Ranger on 24 April 1778 by John Paul Jones, as he became victorious over the British sloop of war Drake, captained by George Burdon. The battle, which took place in the North Channel separating Ireland from Scotland, was the first American defeat of a Royal British Navy ship in British waters. The duel lasted a mere one hour and five minutes, and in the end Captain Burdon was dead. The Drake's command went to Master John Walsh, who was advised by his petty officers to surrender. Walsh could not strike his colors, because they had been blown away in the fight. Instead, Walsh waved his hat and shouted out his desire for surrender.

  A variation of this flag was included by John Wallis, of London, on a map he created in 1783. Wallis' depiction showed six-point stars in the canton.

  The flags depicted in the engravings below are based on this version of the Stars And Stripes painted by Abel Buell. The arrangement of stars appears a little haphazard in both images, and it is difficult to determine if the stars are five or six-point, but that is probably due to the size of the etchings and the artists' attempts to show the flags waving.
A North View of Castle William in the Harbour of Boston. May 1789.
Frontispiece for the Massachusetts Magazine, May 1789
This image maintained by the Library Of Congress
A View of the Town of Boston the Capital of New England.
Frontispiece for the Columbian Magazine, December 1787
This image maintained by the Library Of Congress

  A cartoon published in 1782 shows "America" sitting in triumph, holding a liberty pole and an olive branch. Behind her stands a flagpole, on which flies the "Flag of the United States". This representation shows a flag of lines on the field with a canton of thirteen dark stars on a light background. In regard to the field, the lines seem moreso to depict the waving of the fabric than alternating colored stripes. And in the canton, instead of showing light colored / white stars on a dark / blue background, there are dark stars on the light background. The thirteen stars are arranged to accomodate the image in the etching rather than to accurately represent the Stars And Stripes; they are shown in three rows, three stars in the top row, five stars in the middle row, and five stars in the bottom row.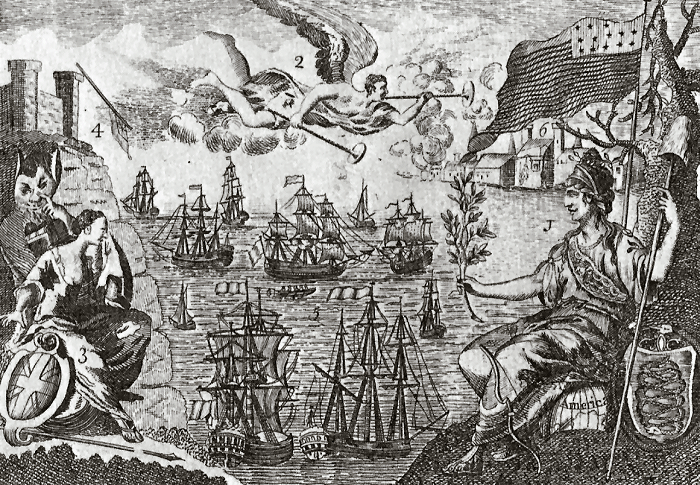 America Triumphant And Britannia In Distress [1782]
This image maintained by the Library Of Congress