The following items are evidence of either the arms of allied families or unofficial heraldry pertaining to clan Muirhead. In regard to the latter, included here will be arms which have been embraced by individuals although they have not been formally granted or recognized by either the Scottish Court of the Lord Lyon or the English College of Arms.


  James Grosset was a merchant of Lisbon in the year 1737. He was a son of Archibald and Euphemia (Muirhead) Grosset.
Walter Grosset provides an account of James Grosset Muirhead in the book, 'An Account of the Family of the Muirheads of Lachop.." Around the year 1707, Walter's mother, Euphemia Muirhead married Archibald Grosset, of Logie. Euphemia Muirhead was known by the name of Lady Logie; Logie was a large estate in the village of Crossford, near Dunfermline in Fife. She was the eldest of six children born to James Muirhead and Helen Stewart, of Bredisholm. The four Muirhead sons failed to produce any heirs, and therefore the Muirhead line of descent then followed the female line, being that of Lady Logie's. One of Archibald and Euphemia's sons, James Grosset, made his living as a merchant prince of Lisbon, Portugal. In the year 1754, James purchased the Bredisholm estate from his uncle, John Muirhead of Bredisholm [1676-1762]. James then assumed the Muirhead surname and its coat of arms, for himself 'and his posterity'.

  The arms of James Grosset Muirhead were blazoned:
Quarterly, 1st and 4th, as the last;
2nd azure three stars in fess argent
and as many bezants in fess or, below the middle of the shield,
in chief an acorn of the second, for Grossett; 3rd,
azure a chevron between two mullets in chief or,
and a unicorn rampant in base argent, for Du Vernet

  The crest of James Grosset Muirhead was blazoned:
A demi unicorn rampant

  The motto of James Grosset Muirhead read:
Pro patria auxilio Dei

  The following illustration appeared on page 714 of The General Armory under the name of James Grosset. It should be noted, though, that it is not an accurate representation of the blazon of James Grosset Muirhead's arms.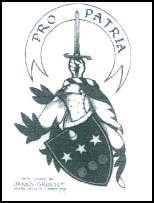 Please note: The images used for the graphics on this page
were derived from the book, A Display Of Heraldry,
by John Guillim, printed in London in the year 1679.