James Grosset, the youngest son of Archibald and Euphemia (Muirhead) Grosset, married 'Donna' Leonora de Miranda (variously, Lonora), of Cordova, Spain in 1739. Leonora was born on 25 June, 1717. James moved to Lisbon, Portugal to embark on a career as a merchant. In 1753 James Grosset purchased the Bredisholm estate from his uncle, John Muirhead (his mother, Euphemia's brother). He thereafter joined the name of Muirhead to his own of Grosset to become James Grosset-Muirhead of Bredisholm. He also took the arms of Muirhead and combined them with those of Grosset. In August, 1760, James sold the estate of Logie to William Thomson, a merchant at Glasgow. (It was subsequently, in 1786, purchased by the Hunt family, who still hold it.) James and Leonora gave birth to: James, born 1740 and died prior to 1754; Helen, born 21 May, 1751; Lillias, born 18 March, 1753; and John, born 09 June, 1754. Leonora died at some time after 1754. James died circa 1776.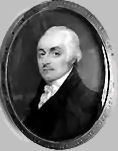 John Grosett Muirhead
~ Reproduced from a miniature portrait by Henry Spicer, sold by Portrait Miniatures, Cheltenham, England.
Helen Grossett-Muirhead, daughter of James and Leonora Grossett-Muirhead, married John Henry Cochrane on 04 July, 1768. The couple gave birth to one child.

John Grosset-Muirhead of Bredisholm married 'Lady' Jane Murray on 08 August, 1785 at Bath, in Somerset, England. Lady Jane was the daughter of John Murray, the 3rd Duke of Atholl , and his wife, Charlotte. Jane was born on 02 December, 1764 in London. The couple had only one child: a son named Kenneth G. Kenneth was born circa 1777 and died prior to 1836. So, when John died on 24 May, 1836, the estate of Bredisholm devolved to a cousin. Jane died on 14 June, 1846 at Edinburgh, in Midlothian.

&nbsp&nbsp&nbsp
&nbsp&nbsp&nbsp