The Ulster-Scots
Mother Bedford's Ulster-Scot Heritage

   For a period of sixty years, beginning in the year 1717, a large number of individuals and families emigrated from the Irish province of Ulster to America. A number of those immigrants homesteaded in the frontier county of Bedford. Although they were not numerous, a few of those families could be found in the region that would become Old-Greenfield Township in 1798. The author descends from Old-Greenfield Township homesteaders, both German and Ulster-Scot. Therefore, this discussion will be concerned primarily with those Ulster families, who need to be differentiated from the "native Irish" and the Scots who also immigrated to the New World.

   The immigrants who came from the "Emerald Isle" have been commonly referred to as Scotch-Irish. The so-called Scotch-Irish were descended almost purely from Scottish ancestors from the Lowlands of Scotland. Many Scottish Lowlanders had emigrated and settled in Ireland after King James I began his "Plantation" of a colony in the province of Ulster in 1610. Although the Lowland Scots would have acquired a few customs of the native Irish, they became associated with the "Irish" and separated from their Scottish brethren only so far as having taken up residence in that island. The so-called Scotch-Irish developed customs and manners that were somewhat different than both, their Scottish cousins and their Irish neighbors.

   The name of Scotch-Irish was coined as early as the year 1573 by Queen Elizabeth. But in that instance she was referring specifically to a small group of Highlander Scots of Celtic ancestry who had gone to Ireland and intermarried with fellow Celts. The name, Scotch-Irish, is a bit deceptive; one might be led to believe that it implies the intermingling and marriage of people of the two nationalities. The available records have shown that there were very few intermarriages between the Scots and the Irish. According to social-anthropologists, the more appropriate term for the people who emigrated from Ireland in the 1700s would be Ulster-Scot. In order to understand what is meant by the term Ulster-Scot, we need to look at a bit of the history of the Scots who emigrated first to Ireland and then to America.

   Follow the links below to additional pages devoted to the history of Mother Bedford's Ulster-Scots.
   Page 2: The Lowland Scots Migrate To Ireland
   Page 3: The Ulster Plantation
   Page 4: The Great Migration (To America)
   Page 5: The Ulster-Scots In Pennsylvania
   Map Of The Provinces And Counties Of Ireland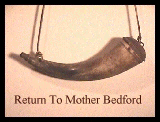 Click on either of these links to connect to Scottish Lore