The region that would, in 1798, become Greenfield Township, was formed out of Bedford Township within Bedford County. It never was part of Huntingdon County, as the maps that follow will show. Map #1 shows Barree and Bedford Townships which were formed within Cumberland County in 1767. In 1771 the County of Bedford was formed out of Cumberland and the townships of Barree and Bedford retained their boundaries in the new county.
 Map #2 shows the region encompassed by Frankstown Township when it was formed in 1775 from the northern half of Bedford Township and the western part of Barree Township.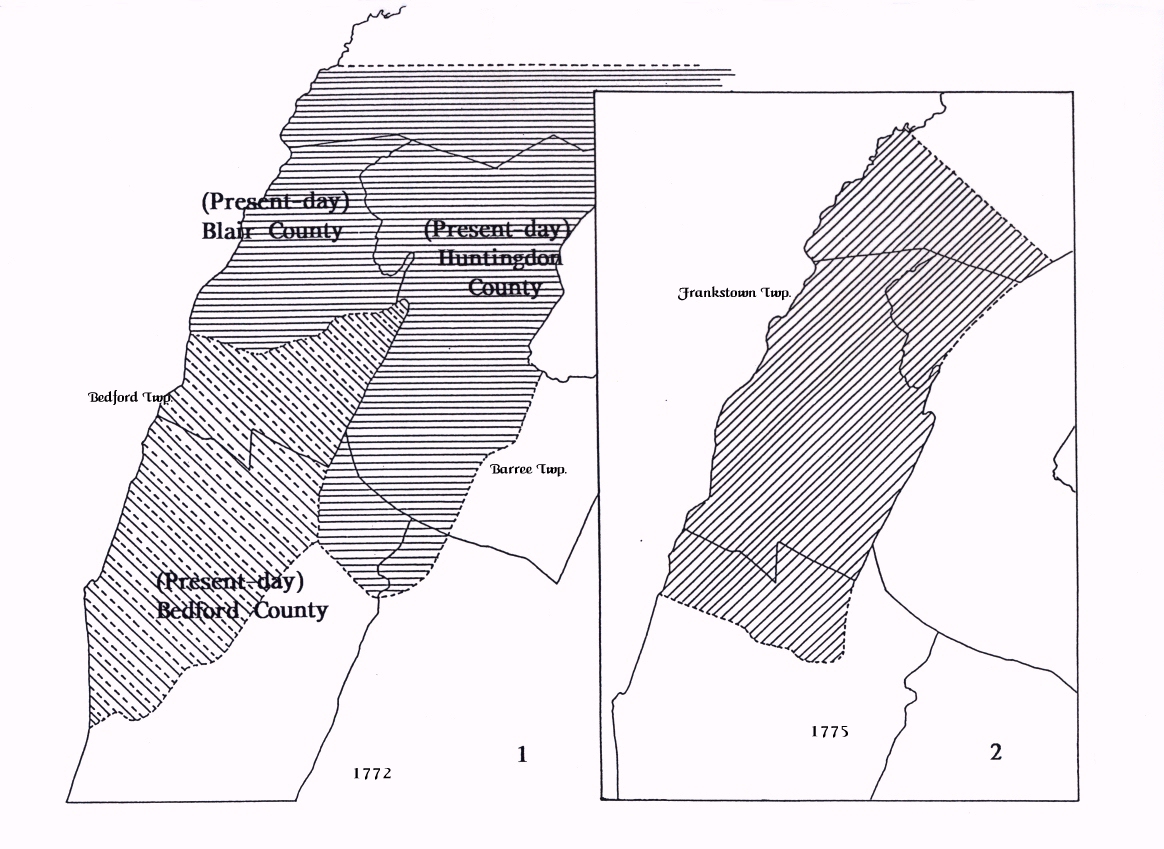 Map #3 shows the region encompassed by Woodberry Township, when it was formed out of the southern and eastern part of Frankstown Township in the year 1785. The southern boundary line of the new township of Woodberry lay along the summit of Evitts Mountain and roughly fol-lowed the course of Bobbs Creek in a line from east to west.
 Map #4 simply shows the region that was removed from the northwestern part of Bedford Township to form St. Clair Township in the year 1794.

 In the year 1798, as Map #5 shows, the township of Greenfield was formed out of the southern portion of Woodberry Township. The Dunnings Mountain was used as the dividing line and provided a relatively straight boundary line between Greenfield and Woodberry. A small wedge of land was given up by Woodberry Township to St. Clair Township; it was formed by moving the south-easternmost corner point from the tip of Dunnings Mountain (where it turns eastward to form Evitts mountain) to a point about four miles morth along the ridge of Dunnings Mountain, and then running the southern boundary line in a roughly westward direction from there. That triangular shaped wedge of land would, in 1834, be taken back from St. Clair Township and reattached to its northern neighbor when Union Township was formed.
 Map #6 shows the region that was removed in 1834 to be formed as Union Township. That division created a boundary line that was run between Greenfield and Union and that would remain as the dividing boundary line between Blair County and Bedford County when Blair was erected in 1846.