In the year 2001, the machines at the Dunsdale Mill plant of D.C. Dalgliesh Ltd., Selkirk, Scotland, began to produce a tartan which had not existed before. It was the Muirhead Tartan.7.78

  Based on an example owned by William Muirhead dating from circa 1854, the tartan had the following thread count: Pivots half: White /2, Red /10, Green /4, Red /24, Green /24, White /4, Green /16, Blue /8, Green /18, Dark Green /28, Yellow /3. The sett was 7-1/2" from yellow pivot to yellow pivot. The tartan was as faithful to the 1854 original as possible with one exception: the original was unusual in that, while having been woven by machine, the red next to the white pivot had an odd number of threads (9). In order to accomodate the modern loom, the count was altered to (10).

  The Muirhead tartan has been designated thusly beause it is the only tartan known to have been owned, and apparently worn, by a member of the Muirhead lineage.

  Ray Jerome Muirhead, author of The Henry Muirheid / Muirhead Family Of Virginia & Mississippi (published in 1989), included a black and white photo of the kilt in his book. The photo showed the kilt, sewn from the tartan matrial, along with a sporran, belt and buckles. The silver buckles were believed to have been hand engraved by William Muirhead who immigrated from Scotland in the year 1854. He landed in the New World and took up residence in the Washington, DC area; William worked at the Washington Navy Yard for a number of years. William's grand-daughter, retired U.S. Army nurse, Major Gracieuse L. Muirhead, a resident of Friendship, Maine, possessed the kilt and allowed Ray Jerome Muirhead to take a photograph of it.

  Through the efforts of Raymond L. Morehead, a color photograph of the kilt was obtained from Ray Jerome Muirhead's son, Raymond Lloyd Muirhead. He then made contact with Francis Swanson, of Illinois, who had, after Grace, come to possess the kilt. She mailed the sash to Raymond, who then made contact with Dr. Philip D. Smith, a member of the Tartan Society, to authenticate the tartan. Dr. Smith responded that it was, indeed, an historic tartan. Dr. Smith was able to determine the sett (the thread count and configuration).

  Raymond L. Morehead submitted a proposal to the Muirhead Clan Society elders to adopt the William Muirhead tartan as the 'official' Muirhead Clan Society tartan. The proposal was unanimously agreed to by the elders (which, at the time included this website's author, Larry D. Smith).

  Raymond L. Morehead then contracted with the D. C. Dalgliesh weaving firm, of Selkirk, Scotland, to reproduce the tartan.

  This webpage's background is a reproduction of the Muirhead tartan, shown below in its correct colors.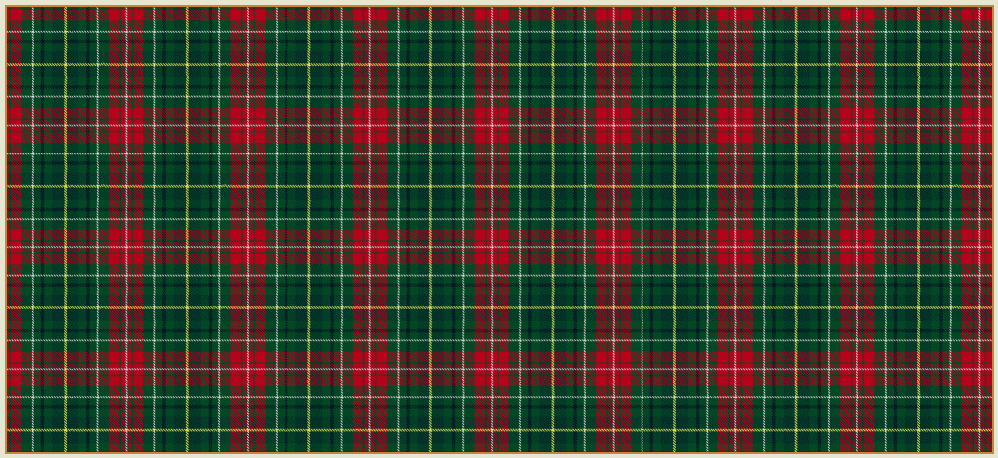 Footnotes:
7.78    The information on the history of the Muirhead Tartan was derived from correspondence between Larry D. Smith and Raymond Lee Morehead.