The Muirhead ancestral home of Lauchope was located in Lanarkshire, one of the counties that comprised the Western Association. It was also located in the region in which the Covenanters rose up against the government of Charles II in what was known as the Pentland Rising. There is no way that the Muirheads could have avoided becoming involved with the affairs that defined a major feature of Scotlandís history.

  At the time that the National Covenant was the guiding force of the Scottish government, James Muirhead, 5th in descent from James and Jean (Fleming) Muirhead of Lauchope, the eldest son of James and Jean (Houstoun), and the husband of Marie (Dalziel) was the ĎLairdí of Lauchope. He died in May, 1671 and therefore did not live to see the overthrow of the Covenanter government in 1684. Jamesí second youngest son, Claud, whom he designated as his legal heir, would become the laird of the estate and family upon his fatherís death, and hold that position into the 1680s.

  There exist no records indicating that Claud was identified with the Covenanters. But his son, Gavin, along with a John Muirhead, a Margaret Muirhead, Baillie Muirhead and two men named James Muirhead were held as prisoners in the Edinburgh Tolbooth and also at Leith, Canongate and Dunnottar prior to being banished to the Americas in 1684 and 1685.(2.42)

  Gavin Muirhead was from Cambusnethan when he had been taken prisoner, and held at the Edinburgh Tolbooth for being a Covenanter. He was banished to the American Plantations on 05 May, 1684. Gavin was transported from Leith by George Lockhart, a merchant of New York, James Glen, a stationer burgess of Edinburgh, and Thomas Gordon, burgess of Edinburgh on 16 May, 1684. Gavinís name was not listed on any shipís passenger record, though, so we cannot be sure that he traveled to the American colonies for certain. We do know that Gavin and his wife, Janet (Douglas) gave birth to children during the years 1684, 1685, 1687 and 1691 (i.e. William; Captain James, last of the senior line of the Lairds of Lauchope, Bethea and Jean). Apparently, if Gavin did travel to America, he might have returned to Scotland soon afterward.
Edinburgh Tollbooth ~ Used by kind permission of Helen Grant. Url Address: www.scots-roots.co.uk

  Baillie Muirhead was incarcerated in the prison at Leith for nonconformance; he died there. Nothing more is known about this member of the Muirhead clan.

  Margaret Muirhead was held as a prisoner in the Edinburgh or Canongate Tolbooths. She was banished to the colony of Carolina with Robert Malloch in August of 1684.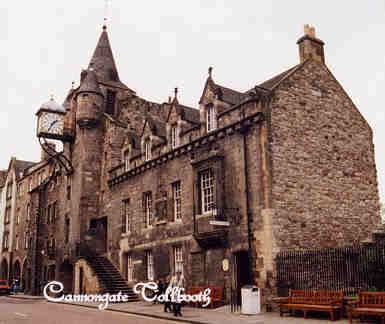 Cannongate Tollbooth ~ Source unknown.

  James Muirhead was also held at the Edinburgh or Canongate Tolbooths, and was banished to Carolina with Robert Malloch in August of 1684. This James Muirhead might have been the son of James and Helen (Stewart) Muirhead and great-grandson of James Muirhead of Bredisholm. Neither the name of Margaret Muirhead, nor that of James Muirhead, nor that of Robert Malloch appear in any of the extant ships passenger lists.

  A man by the name of James Muirhead died while in prison on 28 November, 1684 as a result of the prison conditions.(2.43)

  Another James Muirhead was held as a prisoner at Leith, Canongate and Dunnottar. He was banished to the American Plantations by an order issued at Leith on 18 August, 1685. It is possible that he was the same James Muirhead who was banished along with Margaret in August, 1684, the order of which was not carried out at the time. This James Muirhead was actually transported from Leith to the port of Perth Amboy in East New Jersey aboard the ship, Henry And Francis.
Dunnottar Castle ~ Used by kind permission of Joanne Mackenzie-Winters.


Copyright The Internet Guide to Scotland (www.scotland-info.co.uk)

  With James on board the Henry And Francis went John Muirhead, who was being then held at the Edinburgh Tolbooth. Johnís name was recorded on 4 May, 1685 in the log of the Edinburgh Tolbooth. His order of banishment was issued on 21 August, 1685. It may therefore be assumed, that John Muirhead spent at least three months in the prison at Edinburgh.
Footnotes:
2.42     Directory Of Scots Banished To The American Plantations 1650-1775, by David Dobson 1983, p 169.
2.43     Persecuted For Righteousnessí Sake, at URL address: http://members.aol.com/Puritanone/martyrs.html, which used the source: A Cloud Of Witnesses, by James Pringle; and History of the Sufferings of the Church of Scotland from the Restoration to the Revolution, by Robert Wodrow; Treasury of the Scottish Covenant, by J.C. Johnston; and Fair Sunshine, by Jock Purves.