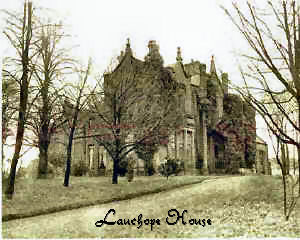 Lauchope House

  William, the oldest son of Willielmo and Jean de Muirhead, was born circa 1415. About 1442, he married Mariota Hamilton, who was born circa 1418. They gave birth to two sons: John Muirhead of Lauchope and Richard Muirhead.(1.25) It would be the descendants of William and Mariota Muirhead who would lay claim to the titles associated with the lands of and in the vicinity of Muirhead in Lanarkshire, Scotland.

  William Muirhead was knighted by King James IV, taking the appellation: Sir William Muirhead (2nd) of Lauchope. He was appointed to the position of Lord Clerk Register, but resigned from that position. He then served his king as Secretary of State and as one of the Lords of Council and Session.

  On 23 August, 1468 the King of Scotland confirmed a charter between Gawin de Hamiltoun, provost of the collegiate church of Bothville and Master Robert de Hamiltoun, canon of Glasgow. The transfer of lands in the shire of Lanark was witnessed by William de Murhede and Stephen de Murhede.

  William Murhed of Lauchop served as one of the witnesses to a sasine (i.e. the act of giving possession of feudal property) in favor of William Lennox of Caly, dated 10 November, 1471.

  Sir William Muirhead of Lauchope died circa 1506.

  The icons below link to pages devoted to the descendants of William and Mariota Muirhead.
| | |
| --- | --- |
| Please note that within the webpages devoted to each individual family line, paragraphs are preceeded by "Muirhead tartan" icons which bear numbers denoting the generation from the line's progenitor {the progenitor always being generation #1}. For example: The icon shown to the right would be used to denote the grandchildren of the line's progenitor, i.e. generation #3. | |